Covid 19 –  Cadwyn Clwyd and Local Action Groups in Denbighshire, Flintshire and Wrexham providing LEADER funds for frontline support.
Swift action meant that a LEADER funded co-operation project across rural North East Wales was launched 24th of March.  The project helps community groups to develop and trial new ways of providing frontline community support.  The £54,000 project is currently supporting 14 community groups with a further 3 in the pipeline.
South Denbighshire Community Partnership
(photo taken last year)
Support provided through Cadwyn Clwyd and the Denbighshire LAG has enabled the South Denbighshire Community Partnership to scale up their personnel and resources to provide hands on front line support to the community during the Covid-19 pandemic.
The project is enabling SDCP to provide a food shopping, prescription pick up, transport solutions, meals on wheels, distributing food parcels and make referrals to Citizen's Advice Denbighshire. The project has set up a new ICT system to enable the network of volunteers to function effectively.
HF Trust – Flintshire
HF Trust is a charity supporting people with learning disabilities in rural Flintshire.  The current COVID-19 pandemic has created a new challenge for the trust and the 275 individuals per week that they usually support. Much of their work is based on face-to-face support and bringing individuals together in a physical setting, which they are now not able to do due to social-distancing measures and to ensure the safety of all the people they support and their staff.  LEADER funds are enabling the piloting of a new methodology for supporting individuals with learning disabilities that are isolated using modern technology.  The pilot project is purchasing 14 tablets to loan out to individuals who are identified as having the highest needs.
HF Trust will preload these tablets with a range of accessible apps, for example Zoom/Skype, YouTube, Facebook, that will allow these individuals, who are at highest risk of increased social isolation, to call their friends and family within  safe setting mediated by HF Trust staff.  Access to the tablets will also enable individuals to maintain their health and wellbeing through accessing videos/apps and online activities such as cooking classes, fitness and social activities (bingo/ quizzes).  HF Trust will also set up a virtual day centre and run activities with staff that are familiar to the people they support.
Given to Shine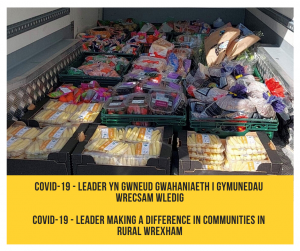 Cadwyn Clwyd is pleased to be supporting Given to Shine Community Interest Company to pilot new ways of delivering their services in rural Wrexham. Given to Shine are distributing food and hygiene products to the most vulnerable & socially isolated people in the rural areas of Wrexham through a network of volunteers who are delivering these packages door-to-door.
The project is funded by Cadwyn Clwyd and the Wrexham LAG through LEADER and is working with partners across the county to source as many of the items locally & sustainably, through surplus food donated by local supermarkets and shops, to families most in need.